History
C A Upton & Son was established by Clive Upton who had followed his father and grandfather into the family business, and is now run by his son, David. However, David can trace his family history back to his great grandfather, Harry, who was working in Hastings Old Town as an upholsterer or coach trimmer in 1881. Although there have been various adaptions on the name evolving through H and A Upton to its present C A Upton, the business has always been known locally as Uptons. We have featured in numerous magazine articles including; Classic and Sports Car, Jaguar World, TKC Magazine, Classic Car, and Land Rover World.
‍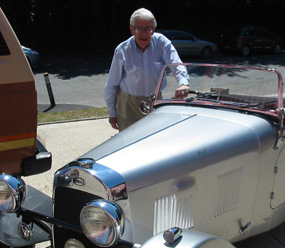 Harry was followed into the business by his eldest son William and subsequently by his third eldest, Alfred, who was Clive's father. Clive joined the business from school, leaving it in the late 1950's for a short while to join the local police constabulary. He returned 18 months later and Uptons was running once more. Clive's cousin Ron, a furniture upholsterer, later joined him. The business became C A Upton & Son after David joined his father from school in 1980, taking over the business when Clive retired in 1999.
Uptons was originally based in what is now the Stables Theatre in Hastings Old Town, relocating further down The Bourne during the 1950's. When Clive returned to motor upholstery he looked for new premises to rent finding part of the old Skinners garage group workshops in North Street, St Leonards-on-Sea. In 1964 Clive purchased Yew Tree Works in Victoria Avenue, Ore, Hastings, in what was an old sweet factory complete with original hotplates and stabling for the horse and cart! The business was based there until 2008 when it was time to move on. After a brief sojourn in Brunel Road, St Leonards-on-Sea, the business moved to its present home in Armstrong Close, St Leonards-on-Sea, with David and Jo purchasing the building in 2013.
‍
Historic Vehicles
The history of prestigious vehicles the family have worked on include: in the 1940's HRG cars were brought down from the manufacturer's base in Surrey to Hastings especially to be trimmed by Uptons (see our picture of Clive with a vehicle trimmed by his father); Elva sports cars (produced locally during the 1950's); during the 1960's Manta Ray beach buggies and Kougar sports cars in the 1970's (in excess of 350 were fully trimmed, seats and all weather equipment made by Uptons until the late 1980's); and a couple of dozen full trims for the Apal Porsche 356 speedster replica during the 1980's to early 1990's. Clive was also involved in proto-type work for the Hesketh motorcycle seats.
‍
Today
David has over 40 years experience in the business, and has worked on a diverse and unique range of vehicles including; Team Jaguar C-types and D-types through to the prototype Jaguar E-type E2A; Frazer-Nash; Vauxhall 30-98; Bristol 402 cabriolet as well as the Beaufighter; Rolls Royce Phantom 2; Thorneycroft; various Le Mans replica Bentleys; various Metallurgique; a VW Stolle Coupe Beetle now in the Wolfsburg VW museum, Germany; several dozen Morgan three-wheel cars for the C M Booth Collection of Historic Vehicles; through to the Eagle Speedster. David's past and present clients include Lynx; XJ Restorations; CKL Developments Ltd; Eagle E-types; VW expert Bob Shaill; JS Gedge and Hastings Motorcycle Centre, and V-Twin Custom Cycles. He also occasionally gets the pleasure of working on cars once worked on by his grandfather.
His wife, Jo, joined as a partner in 2011, and is mainly responsible for the administrative side, but is always a spare pair of hands when required.